Entry doors increase curb appeal and allow for more natural light to enter your home. Your front door is also one of the first things people notice when they come over or pass by. Therefore, you need to choose wisely.
Here's everything you need to know about double entry doors, how to find the perfect style, and which material to choose for your door.
There are various types of double entry doors for you to choose from. Not only are there different material options, but colours, sizes, designs, and additional details as well, which can all help improve your home's appearance to a great extent.
When it comes to the material, most double entry doors are made from steel, fibreglass, wood, and glass. Before you decide on the material, there are a couple of factors you should consider first. This includes how much you're willing to invest, how often you would need to maintain the door, and your location's climate.
Steel entryway doors
are the most popular choice because they provide security, durability, and quality. Other factors that make steel doors so desirable are that they are weather-proof and the fact that they don't warp, rust, or get disfigured over time. Despite all the advantages of steel doors, they are inexpensive compared to glass double entry doors.
Steel doors are generally easy to install and maintain, and they can be finished with various colours and textures. What's more, steel doors can be used for both interior and exterior applications.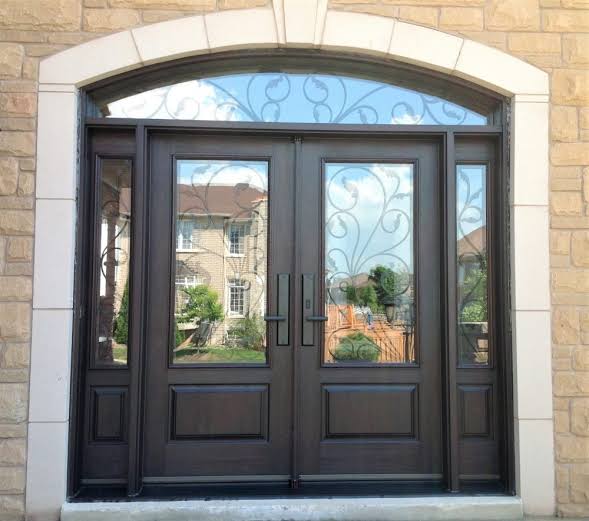 Fibreglass Double Entry Doors
Fibreglass double entry doors are also quite durable and secure, ideal for cold Canadian winters. In fact, they're so efficient that they require little to no maintenance. In other words, they're built to last. Given their sturdiness, they are typically only used for exterior applications. One of the most notable benefits of fibreglass doors is that they can be manufactured into virtually any shape and texture.
When it comes to finishes, you can choose between textured fibreglass and smooth-skinned fibreglass double entry doors. Many homeowners opt for
fibreglass entryway doors
because they mimic wooden doors but are more durable.
Wooden Double Entry Doors
Wooden doors can make beautiful entryway doors, but homeowners prefer to use them as interior doors since they require so much maintenance. They can give your home a vintage appeal, especially when combined with glass panels. Not to mention that they can be painted or varnished with any colour.
Wooden doors also provide excellent insulation, making them energy efficient. Aside from security and insulation, they block out the outside noise well. They're easy to install, but they require regular repainting or varnishing. Wooden entryway doors are typically made from pine, oak, alder, and mahogany. They're generally affordable.
Glass double entry doors are definitely the most elegant option, adding an element of class to your home. What's more, they allow for natural light to flow into your entryway space. Double entry doors can be either made entirely of glass or combined with other materials in the shape of glass panels.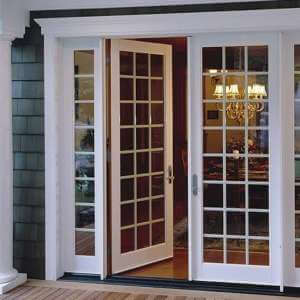 While glass doors are an attractive choice, they offer the least amount of security, and they can get damaged fairly easily. That's why they're better suited for exterior backyard doors or interior doors. The glass can be clear, textured, or tinted. Keep in mind that glass double entry doors command high prices, since they usually need to be precisely cut to fit all the frames.
Benefits of Window Experts Double Entry Doors
If you shop with Window Experts, you'll be able to choose from a wide selection of
energy-efficient double entry doors
. All of our doors come with finishes, and they can even feature decorative elements such as grills and ornate glass. Not to mention that you can choose from a rich selection of colours, shapes, and sizes. You even have the option to mix different materials, like PVC and wood, allowing you to create the perfect finish.
What's more, we offer door panels in any style you could think of. From three-panel and Victorian-styled to parliament and three-panel plank designs, we've got it all. If you want to incorporate glass into your door design, we offer various glass elements with wrought iron designs, including old colony, Lytton Park, Ridelle, Glencairn, and Rexford patterns.
Our team also has a wide assortment of double steel &
vinyl entry doors
to ensure you will find something that you love.
Double Entry Doors Installation Services
Our team of highly trained experts will install the double entry door of your choice in no time. What's more, you won't have to find the right hardware and install it by yourself. Window Experts have got you covered with a wide selection of handles and locks, including levers, knobs, keyed or smart code deadbolts, and smart locks.
Aside from double entry doors, we also offer single doors, single doors with two sidelights, and single doors with a sidelight and a transom. All of our doors are sturdy, durable, and maintenance-free.
If you're interested in how some of our projects turned out, take a look at our gallery. As you can see, we're quite experienced in installing all kinds of double entry doors, and we're always looking for new projects to take on.
Finding the perfect double entry doors for your home is more important than it seems. They can impact your entire house's appearance and determine the kind of impression they will leave on your guests, neighbours, and people who pass by. They also increase curb appeal and your home's overall value.
If you choose to work with Window Experts, you can count on quality service, speedy installation, and maximum client satisfaction. With over five years of experience, Window Experts is guaranteed to help you design the house of your dreams, one step at a time. We offer free consultations and quotes, as well as competitive prices and special offers for all our products.
If you're interested in our double entry doors, or if you have any other questions, feel free to contact us. Our doors are always open for you.