Your front door is one of the first things visitors notice about your home, so it makes sense to consider how it complements your home's overall design.
But, with so many options, which front door replacement should you choose?
We're here to help you make the right choice for your home.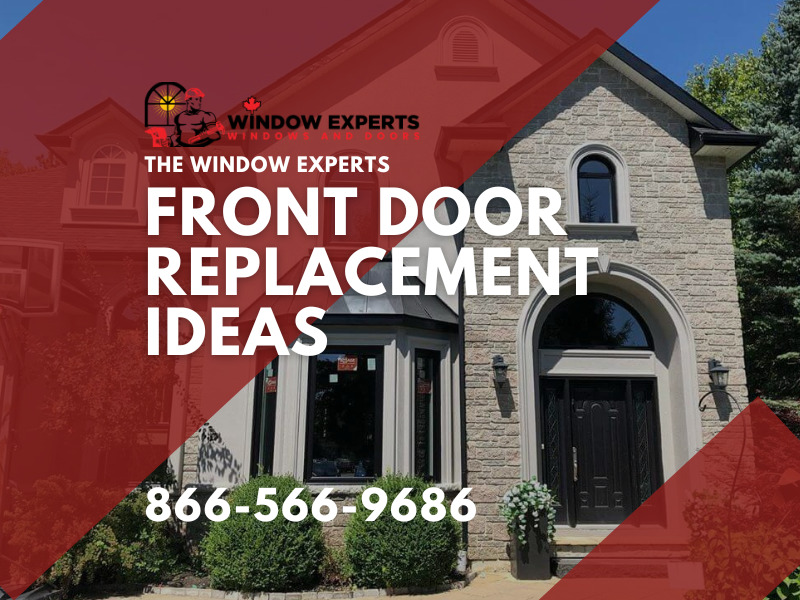 How To Pick a Front Door With Window Replacement
Replacing your front door can be a big job that helps you save money on your energy bills, improve the look of your home, and make your entryway more secure.
If you're unsure where to start, it's important to know that there are two types of doors: pre-hung and slab. Some doors come with the frame; others (like slab doors) require installation by a carpenter or contractor.
You also need to measure the height of your door frame and the width and depth of your door opening. Once you have these measurements, start shopping for a door that fits your space.
If you buy a complete entry system, ensure all components are from the same manufacturer. For example, if you buy an exterior door, make sure it's compatible with any hardware or locksets included in your purchase.
Another thing worth noting is that some manufacturers offer units with glazing to keep intruders at bay. This can be helpful if you live in an area with frequent break-ins or vandalism.
Also, if you're looking for something more decorative, some manufacturers offer leaded glass and bronze caming options that add beauty and value to any home.
The final thing to consider is thermal efficiency. High-quality steel and fibreglass doors have a built-in thermal break that prevents outside cold from penetrating the skin and frame.
5 Trendy Front Door With Window Replacement Ideas That Transform Your Home
If you're looking for a classic look for your front door, wood doors are your best bet.
Wood doors offer a wide range of colours and styles to match your home's aesthetic. They come in several varieties, including oak, walnut, cherry, maple, pine, mahogany, and fir.
You can also get paint-grade doors in several softwood varieties like redwood, pine, and cedar. Many premade wood doors consist of an engineered wood core between two wood-veneer skins. This construction minimizes expansion and contraction and, consequently, warping.
At around $200 per replacement door, they're also affordable.
An aluminum door is a great choice to avoid the hassles of painting and maintenance associated with wood doors. Aluminum front doors have an insulation core covered by a metal skin, so they're ideal for homes in cold climates. They come in many styles and colours, so you can find one that matches your home's style.
Aluminum doors have a baked-on enamel finish, which helps them last for 20 years or more without rusting or chipping. You can also match the colour and style of your door with an aluminum storm door for added protection against harsh weather conditions.
Each front door with window installation is custom-built to your home's opening, so it's important to choose someone like The Window Experts, who has experience working with aluminum doors and can provide references from other customers.
Prices start at about $600 per door—but they're still well worth it compared with other types of materials available today!
Steel doors won't crack or warp and come in a wide range of styles and colours. If you want the best of both worlds, look for a steel door with a wood-fibre coating that you can stain to match your home's exterior. They're also the least expensive, starting at around $150 for a 3 x 6 panelled door without glazing or hardware.
However, if you want something more traditional-looking and want to be able to stain it, consider a wood veneer model. These start at around $300 for a 3 x 6 panelled door without hardware or glazing.
Fibreglass Composite Doors
Fibreglass-composite doors are great options if you're looking for an affordable way to upgrade your entry. These doors carry long warranties and are exceptionally durable and easy to install and maintain.
Fibreglass-composite doors are a great option if you're looking for a low-maintenance entry system that's easy to install. They're also affordable, with most materials costing just a couple hundred dollars. Expect to pay approximately $200 for a 3 x 6 panelled door without hardware or glazing. However, some installations can cost as much as $4,000 when considering all the accessories and materials.
The only downside is that installation affects longevity. Because these doors don't have any moving parts, it's important to ensure proper installation.
Adding Glass Inlay to an Existing Front Door
When thinking about upgrading your front door with window installation, think about the entire design of the door.
Can you make it bigger? Does the colour scheme need freshening up? Consider adding transom windows above the door and sidelights on either side. These are great ways to expand your canvas and add interest to your front entrance.
Decorative glass or stained glass is another great way to add intricate or ornamental designs to front doors with windows. However, go for clear, unobstructed glass to make your entrance look cleaner and more modern.
Contact the Experts for Your Front Door With Window Replacement Today!
When replacing your front door, consider investing in a door with a window. It can give you additional light and make your home more welcoming.
Plus, side windows will let you add more glass while providing plenty of privacy. Replacing your front door is more than an aesthetic change; it can also make your home safer and more energy efficient.
If a replacement is in order, our team at The Window Experts can help you choose the right style for your home. Get in touch with our door and window installation experts today to start your home upgrade in Toronto and the surrounding areas.
Call 905-875-2596 (GTA) (toll free at 866-566-9686), or contact us online to schedule your free estimate.