You'd be surprised that exterior doors actually play a major role in a home's energy efficiency. More and more homeowners are choosing energy-efficient exterior doors to improve their insulation, reduce utility bills, and increase the overall comfort of their homes. There are many more reasons why energy-efficient exterior doors are the way to go and why they're such a good investment.
In this article, you will find out everything you need to know about energy-efficient exterior doors and what makes them a great addition to your home.
What Are Energy-Efficient Exterior Doors?
Even though exterior doors don't take up a lot of room on the walls of your house, they are still responsible for a relatively large percentage of air leaks that escape in and out of your home. That's why you should consider installing doors that will help save your home's energy. However, what makes exterior doors energy-efficient?
Energy-saving exterior doors basically work just like energy-efficient windows. They're designed to reduce the heat flow and air leakage in your home. They also make your home more comfortable to live in all year round. In addition, these types of doors improve your home's energy by blocking heat exposure and solar radiation. By doing this, these doors will significantly reduce your energy bills, which makes them eco-friendly as well.
These types of exterior doors vary in style, design, and materials. Here are some of the factors to look for when choosing an energy-efficient exterior door:
If you're looking for the most energy-efficient exterior doors, fibreglass doors is the way to go. The reason why fibreglass saves so much energy is because it's a poor heat conductor. That's what makes fibreglass doors great for areas where it's cold all the time. Not only is fibreglass an extremely strong material, but it's also a great insulator, as these types of doors typically have foam cores. In fact, fibreglass doors are up to seven times more insulating than wood. Heavy snowfalls or long periods of rain won't have any effect on these durable doors.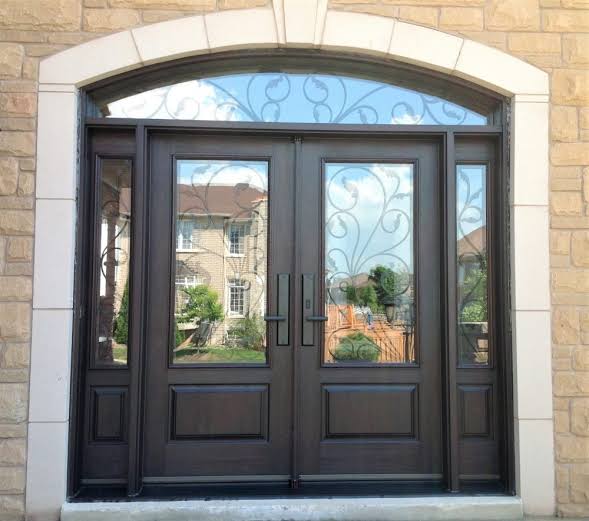 Here at The Window Experts, we offer a wide variety of fibreglass exterior doors that can go with any exterior design. Whether you're looking for a contemporary exterior door or a more traditional design, you can find it at The Window Experts exterior door collection. You can even choose custom fibreglass doors with different pane textures and colours, embossments, sidelights, glass inserts, and more.
Steel exterior doors are another excellent choice if you want an eco-friendly option. While steel doors aren't as energy-saving as fibreglass doors, they're still excellent thermal insulators. Apart from being heat-insulating and weather-resistant, steel doors are also quite secure. What's more, steel doors can't be bent, broken, or forced open. They also offer excellent sound and vibration insulation.
The Window Experts also offer a varied selection of steel doors. Whether you want a minimalist steel design or ornate patterns with more details, we can make it happen. You can even choose between colours, door cores, sidelights, and fire ratings.
The best energy-saving exterior doors are protected with a low emissivity coating (E-coating) that not only insulates your home but also protects you from the sun's harmful UV rays. In fact, these doors can block out up to 98% of UV rays.
This low E-glass coating increases the door's energy-saving performance. Energy-efficient exterior doors do this by preventing sunlight and heat from entering your home when it's hot outside. Similarly, these doors keep the heated air inside your home when it's cold outside. No matter what time of the year it is, your home will remain warm and enjoyable all year round.
When searching for the most energy-efficient door, make sure to look for doors with double or triple-paned insulating glass. The reason why multiple glass panels are important is that they reduce the heat flow that comes into your home.
Single-panelled glass doors, on the other hand, do make your home more beautiful and allow a lot of natural light into your house, but they aren't as energy-efficient as double or triple-paned doors.
It goes without saying that if your exterior door isn't installed properly, it will let heat and coldness pass through and enter your home. It doesn't matter how well-built your doors are, if they aren't installed the right way, you can forget about their energy-saving properties.
Why You Should Get Energy-Efficient Exterior Doors
There are plenty of reasons why you should invest in energy-saving exterior doors. Even though you might find installing energy-efficient exterior doors an expensive investment, this is actually one of the most cost-effective ways to make your home energy-efficient.
Exterior doors that are energy-efficient improve your home's insulation. They make your home warmer during winter and cooler during summer, decreasing your energy usage and, therefore, your utility bills. It's not a secret that your HVAC system eats up most of your utility bills, so you will end up saving money in the long run. These doors also increase your home's resale value, which is especially important if you're planning to sell your home in the future.
Thanks to their special thermal-proof coating, these types of exterior doors are more durable, and they're less prone to damage. They also protect the inside of a house and its inhabitants from harmful UV rays. They can even be soundproof, which is great if you live on a busy street.
These types of exterior doors are also quite eco-friendly. By reducing our utility bills on a monthly basis, we're actually reducing our carbon footprint. Due to their thermal reflection properties, your home will use less energy to heat up and cool down. Therefore, these doors are great for the environment.
The Window Experts - Door Installation Services
Updating your home with energy-efficient exterior doors helps you save money in the long run. If you're looking for high-quality, durable exterior doors that are also energy-efficient, you can find them here at The Window Experts.
Constructed using the latest technology, our fibreglass and steel exterior doors are built to last. We also offer door installation services in the Greater Toronto Area, Hamilton, and York Region. The Windows Experts don't only offer energy-efficient doors, but energy-efficient windows as well. Feel free to contact us for any information or if you are interested in our door installation services.